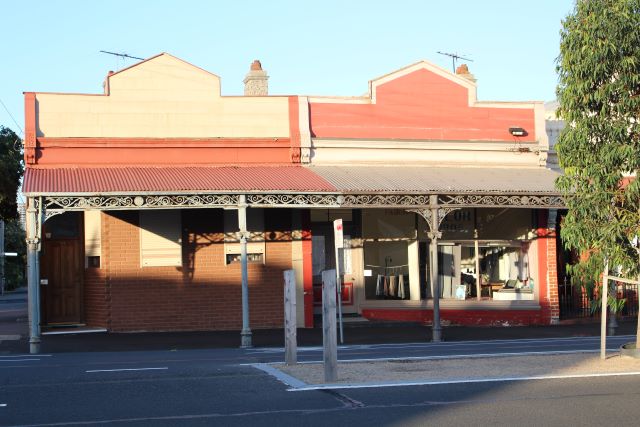 The spacious streets of Port
It rained last night. Again. The Pumping Station in Port Melbourne responded, its huge pumps kicking into life to push all that stormwater out into the Bay.
Living on the western shore of the former Sandridge Lagoon in Port Melbourne is an ongoing and fascinating preoccupation. It stimulates imagination of its past wetland condition, gives insights into politics and decision making about major infrastructure, reminds of the value and loveliness of wetlands and invites thinking about the implications for low lying lands in the future.
On Wednesday, I tuned in to the livestream of the Port Phillip Council meeting. Councillors were considering the Department of Transport's (DoT) response to their request for the removal and modification of elements of the pop up bike lane trial infrastructure so recently installed in Port Phillip.
Many of the vehement complaints about the pop up bike lanes were about visual amenity.
Among the treatments agreed by Council and DoT to be reviewed on visual amenity grounds was that at Esplanade West where it meets Lyons St. The large expanse of road space has long been recognised as requiring some form of treatment on safety grounds. It is a very confusing intersection.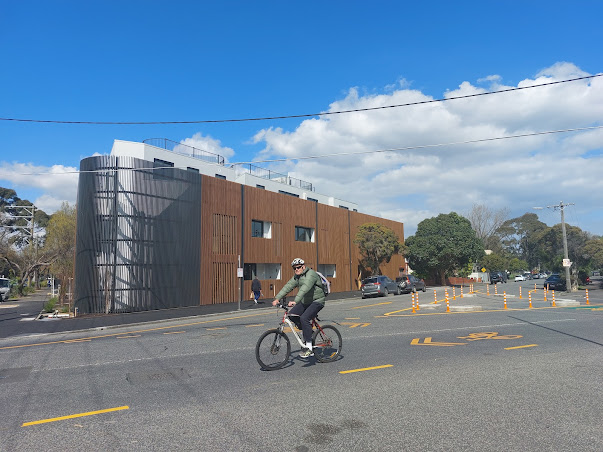 Truth to tell, I was a bit in the visual amenity camp on this one, even though I appreciated the safety benefits the pop up treatment conferred, because this is one of my (many) favourite spots in Port Melbourne.
It reveals the shape of the former Sandridge Lagoon. Read in conjunction with the sagging pair of shops with their council crests on Bridge St, it stimulates Lagoon imagination.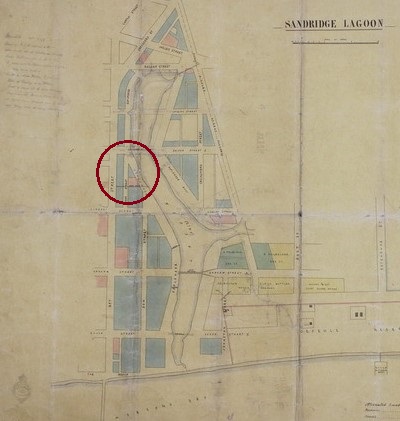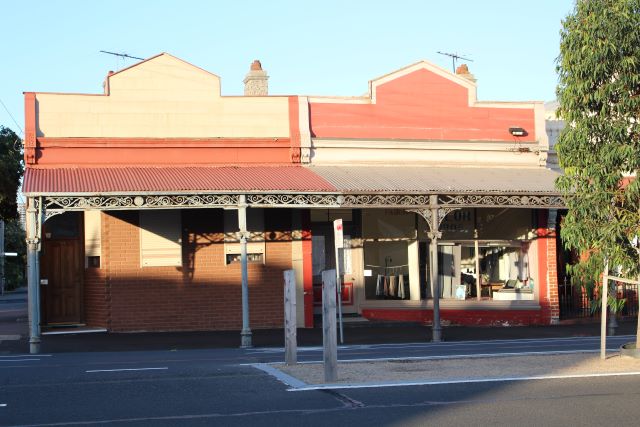 In a background study for the Bay St Activity Centre Structure Plan in 2014, Jones and Whitehead looked at many opportunities for Bay St and surrounds. An idea that fell by the wayside was a suggestion to make the former shoreline of the Lagoon more legible. In their words: to mark Port's 'maritime and industrial heritage, the original layout of Sandridge, the former Lagoon, interpretive heritage markers, and framing of views to historic landmark buildings'1.
---
To all those who reacted so strongly against the pop up bike lanes because of the visual amenity, an alternative is possible. An alternative that would require no physical intrusion – the introduction of 30 kph zones on local streets. At 30 kph the impact of a collision of a pedestrian or cyclist with a vehicle would be less likely to cause serious injury.
The City of Yarra recently conducted a trial of a 30 kph zone in the Collingwood area. The trial was formally evaluated. It found that many people travelled quite slowly on local streets anyway but the biggest impact was to lower the speed of vehicles that travelled fast before the trial. The 30 kph zone remains in place even though the trial is over.
The City of Yarra's recently adopted Transport Strategy plans to increase the number of 30 kph zones. It recommends using 'physical and behavioural design' to make compliance easier and create streets that are more comfortable and pleasant local environments.
There are many excellent examples of this kind of design in the City of Port Phillip where road space has been reclaimed with attractively planted kerb extensions.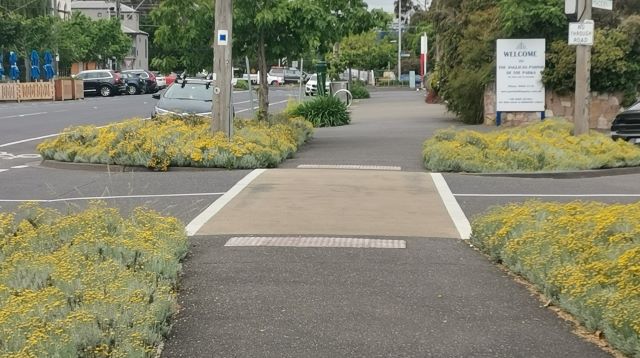 DoT's temporary high visibility poles and concrete kerbs draw attention to the large amount of road space available in Port Phillip for such treatments. They are opportunities to narrow streets to make it easier for pedestrians to cross, to create permeable, pollinator attracting flower beds. Located on routes to schools and public transport, these interventions benefit everyone and lower speeds as well. Treatments with these multiple benefits are preferred but they are expensive, so they can't all be done at once, creating a role for temporary infrastructure.
---
Meanwhile, the City of Melbourne is undertaking community consultation and design on creating a pocket park at Bedford Street in North Melbourne using a comparable area to that at Esplanade West and Lyons St. The proposed design increases green space, improves local area cooling and stormwater retention, and slows local traffic.
This leads me back to that study by Rogers and Whitehead. How about creating a planted bed, or even better, a raingarden in that space to safely separate the streams of vehicle traffic as well as to reference the Sandridge Lagoon?
---
Dan Hill, in an article in the Age in June, challenged us to think of how we can use these generous streets more creatively in our cities.
"Given streets are public space, it is up to all of us, the public, to collectively imagine and build these next versions of Melbourne.
What do we want for our city? Let's ensure we can all work towards these thriving and adapting streets. … A far richer tapestry, a more diverse yarn, for a fairer, healthier, more vibrant Melbourne is just within reach. Let's not drop these stitches now."2
Note: The Bridge St treatment that has given rise to so much commentary will be removed and alternate approaches explored.
---
1City of Port Phillip Activity Centre Structure Plan, adopted 26 August 2014
2 Dan Hill, Can we cycle through the outrage to imagine a better Melbourne, The Age 7 June 2022