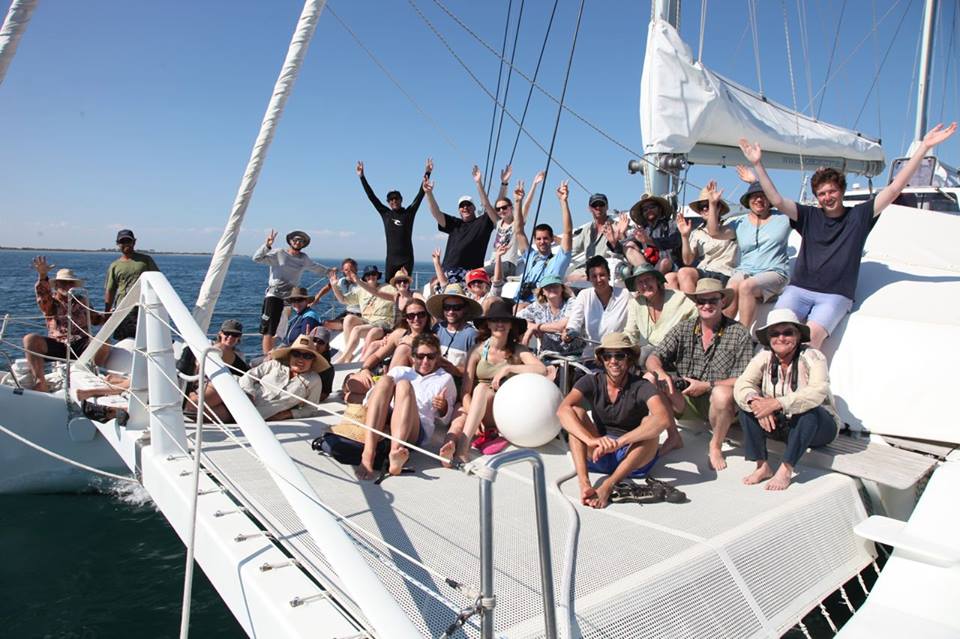 Two Bays
S.V. Pelican is about to sail the Two Bays: Port Phillip and Westernport Bay.
It's the tenth year this purpose built sixty-one foot catamaran has taken people on these voyages of bay conversation, exploration, knowledge gathering and exchange. Two Bays introduces people to the natural and cultural values of the Bays, and investigates them more deeply – as there is still so much to find out about these bodies of water so close to us.
Each year another layer is added to the rich stories gathered from the interactions and exchanges that have taken place on board. The vessel itself facilitates collaboration. People shed something of their shore bound selves when they go on board. Some people have never been on a boat, or on the Bay. The Pelican introduces them to each other.
Pelican builds partnerships, particularly with Traditional Owners, and strengthens existing ones. Indigenous stories are an essential part of connecting with Sea Country.
The Two Bays program is powered by a deep commitment to the ocean and profound concern about the impact of climate change on it.  It encourages people and organisations to improve the health of the Bay.
There could be no better time for the Pelican to be around Port Phillip Bay. The Department of Environment, Land, Water and Planning (DEWLP) is developing a new Environment Management Plan for Port Phillip Bay – the Plan to manage a healthy Bay into the future.  It asks what we value about Port Phillip Bay. The survey takes less than 10 minutes. (I've just done it, and there is the option to register for more information) If you walk along the foreshore, swim in the Bay, fish, worry about litter, or visit the Bay only occasionally, show your care for the Bay by doing the survey.
The story of the genesis of this project and why its creators have invested ten years of their lives in this project is a story for another day.
Port Places will be following the Pelican's journeys around the Bay this summer on facebook at Port Places.
More
To do the survey, go to Port Phillip Bay Environmental Management Plan
The whole point of Two Bays is the attention the program gives to both Bays, and yet I have focused on Port Phillip Bay. Here are the Two Bays and their relationship.