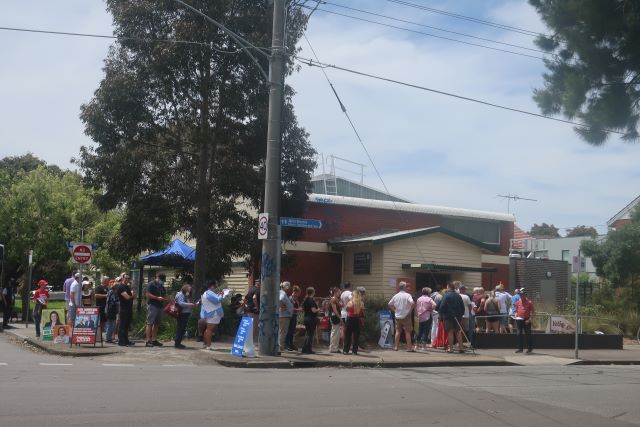 Voting Centre in Fishermans Bend
An early start on election day, Saturday 26 November. Only three A frames from each party were allowed which eliminated ugly contests over fence space.
It also meant there was time to chat.
Two former parliamentarians from opposite sides of politics re-connected at the voting centre.
Victor Perton represented Doncaster for the Liberal Party in the Victorian Legislative Assembly from 1988 to November 2006.
Returning to Australia after working with the G20 he was struck by the gloom of pessimism that seemed to have descended on Australia while he was away. He has since set up the Centre for Optimism 'leading people out of the fog of pessimism and cynicism'. Perton exudes cheer and optimism.
Eddie Micallef, the former Labor member for Springvale, has spent most of his post parliamentary career as chairman of the Ethnic Communities Council of Victoria. His commitment to multiculturalism is unwavering and dedicated.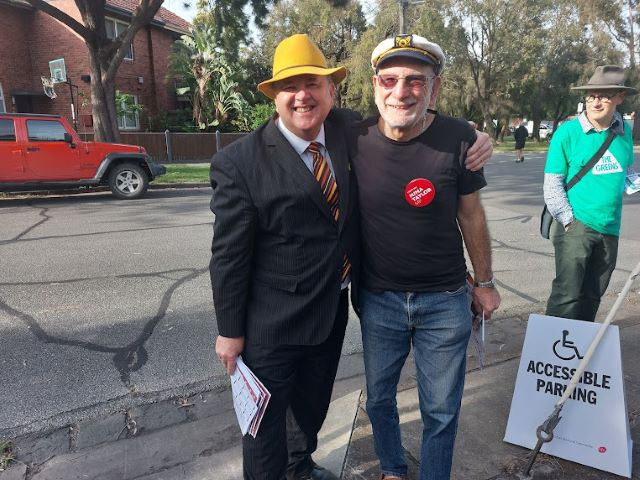 The mood at the voting centre throughout the day was cordial with camaraderie amongst those handing out election material.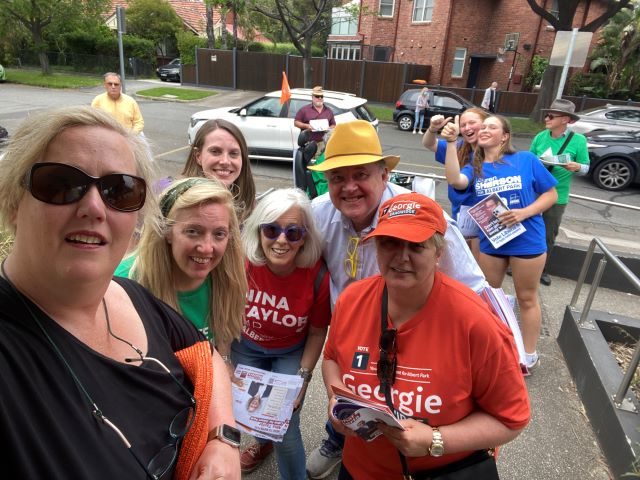 ---
Fishermans Bend Community Centre is a modest hall on Centre Avenue. The 234 bus service to Garden City terminates here.
Fishermans Bend had a reputation for being a quiet voting centre where you could be in and out and get on with your day. Not in November 2022.
'It used to be so quiet' was a refrain heard throughout the day as people abandoned long queues at other centres hoping for a quicker turn around.
Port Melbourne Scouts went through 50kg of democracy sausages. All a learning activity for the scouts – running the barbecue, observing the election process and developing social skills along the way.
The slow moving queue allowed time for many conversations with voters. Workers from some of the many industries in Fishermans Bend including VICT, Boral, came here to cast their vote. One person had just come off a night shift at a bar.
Many people were wearing masks, but were without sun protection. The comfort of the shade offered by a tree on Centre Avenue contrasted with the unrelenting heat of the unshaded Dunstan Parade footpath – a stark reminder of the heat island effect and the benefit of street trees.
The benign 270 day changed around midday when northerly wind gusts of 54 kph to untethered the A frames.
The slow queue enabled conversations. Many people declined the election material offered. Mobile phones made the wait more bearable. Some spoke of how much they enjoyed election day as an expression of democracy but others resented the time, the queues. Families with long connections in Garden City as well as newer Port residents mixed in the queue.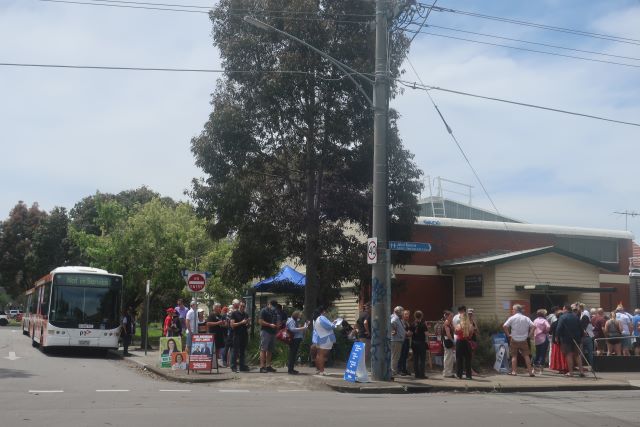 Independent candidate Georgie Dragwidge, known by herself and fondly by others as 'the potato lady' was well supported by her wide network. Georgie has a very popular stall and loyal customers at the South Melbourne Market. Orange, rather than teal, was the colour of this independent. Georgie was the second preference of Labor, Greens and Liberal candidates. Georgie asked voters to put her first, but to direct their own preferences.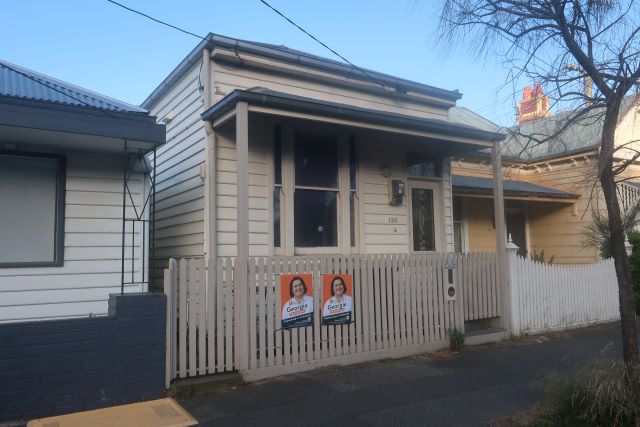 ---
1445 votes were cast at Fishermans Bend Voting Centre. The three leading candidates are shown, as well as Georgie since there was such strong local interest in her campaign.
PRIMARY VOTES AT

FISHERMANS BEND (SANDRIDGE) VOTING CENRE

Georgie Dragwide (Ind)
94
Nina Taylor (Lab)
586
Kim Samiotis (Grn)
202
Lauren Sherson (Lib)
408
Primary votes at Fishermans Bend voting centre
---
Daniel Andrews is no orator. You get the feeling he just wants to get back to work 'doing what matters'. However, the phrase 'Hope always defeats hate', widely shared, captured the essence of the election result.
Election day began with optimism and ended with hope.
---
At 4.30 on Friday 2 December, results for the Albert Park district have still not been declared. With 34,113 votes cast, Nina Taylor (ALP) leads Lauren Sherson (Lib) on a two party preferred basis 61.33% to 38.67%.
More
Listen to Victor Perton in conversation with Lisa Leong on This Working Life on Radio National. It aired today, Friday 2 December. (It may not be available yet, so check again)
Follow the election results for Albert Park on the Victorian Electoral Commission website.
The VEC cautions: The two-candidate preferred count can provide an early indication of election results, but has no status in determining the actual election outcome. Minor variations may be observed with rechecked results and preference distributions (where required).
Janet Bolitho volunteered at the Fishermans Bend voting centre for Nina Taylor and the Labor party.