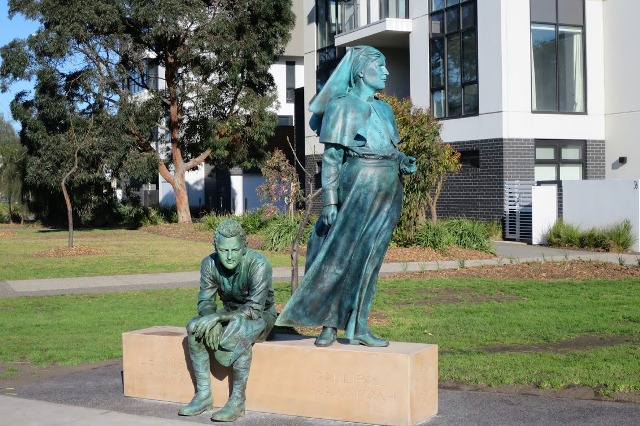 Back to School
More road explorations – a road closure this time
Students returning to Albert Park College make their way to school past a sculpture of a nurse and a worn out soldier.
Maybe they don't know or care what she represents, buts she'll be in the background of school life and memories.
The sculpture stands where the intersection of Graham and Foote Streets used to be in Albert Park.
There was a time, of course, when there were no roads here – just the low flat swampy land between the settlements of Sandridge and Emerald Hill.
Alongside the South Melbourne Gasworks was the Melbourne Glass Bottle company – address given simply as Graham St, near the Beach before they made the move to the other side of the River.
Move forward a century to the late 1970s …
With the imminent opening of the Westgate Bridge, activist councillors at the City of South Melbourne began an energetic campaign to prevent traffic from the Bridge going through South Melbourne. With local community support they closed local streets such as Graham St at Foote St where such impacts were anticipated. The Gas and Fuel Corporation objected, the Country Roads Board objected, and the government was not impressed that South Melbourne Council was taking matters into its own hands.
And that resolves the puzzle of why Graham St was closed to east bound traffic at Foote St.
The new Albert Park College was the catalyst for further reclamation of the intersection of Foote and Graham Streets to add to the scarce open space available to the school and to enable students to move freely and safely to neighbouring Gasworks Park.
Students doing handstands where cars used to drive, now that's a marker of success.
But closing the road was only the first step. A few trees, a few paths and some grass. Nothing special.
And then a dedicated small group of citizens, unionists and a historian got together to mark and honour the service of Anzac nurses and Australia's relationship with the people of the Greek island of Lemnos. After years of fundraising and persistence through the obstacles that attend such projects,  the Gallipoli Lemnos sculpture was created and installed on site at a ceremony in 2015.
It has made a park out of a road closure and given the park a focus.
And that is why you will be greeted when you pass by a Greek goddess in a nursing uniform looking out to the north-east, and a weary soldier, warming their cold sculptured selves in the morning sun at the junction of Foote and Graham Streets.