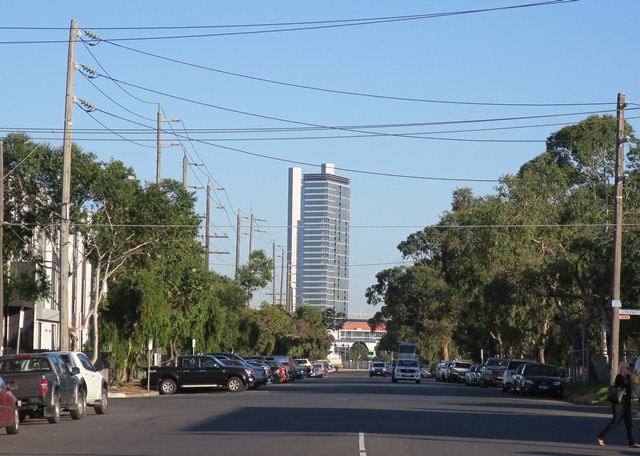 Boundary Street
Road portrait: Boundary Street
Boundary Street separated the cities of Port and South Melbourne when that boundary meant something.
Boundary St is yet another straight and purposeful street heading from Crockford St towards Lorimer Street and the Yarra River. Its former connection with the River is now interrupted by the many lanes of the Westgate Freeway.
When he was a boy, G said, you could look down the street and see which ships were on the River. Now you know the River by the towers of Yarra's Edge.
This was the dirty, smelly end of town. The South Melbourne abattoirs were at the end of the street –  only closing in the 1970s. J. Kitchen and Son set up their soap and candle factory on the large site between Ingles and Boundary St to be near to the ready supply of tallow from the abattoirs. Later, the South Melbourne tip came to occupy its present site at White St.
Until 2012, when Fishermans Bend was re-zoned to Capital City zone, these sites were separated from residential areas (although the smell respected no boundaries). The smell was said to be worth at least a goal to the home side at the Port Melbourne Football ground.
The soap factory was sold for residential development. It was the first site in Fishermans Bend to get development approval in 2013 following the re-zoning. Now a whole estate of wall to wall townhouses is carpeting this large block which has a frontage to Boundary St directly opposite the former tip – now the Resource Recovery (Transfer) Station (RRTS).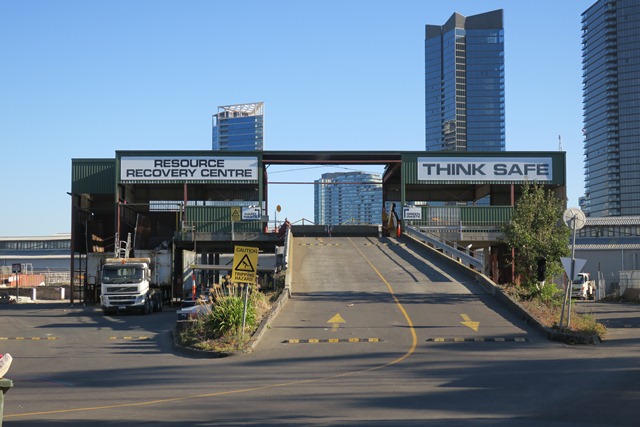 The RRTS accepts many items for recovery – mattresses, electronic waste, paint, oil, white goods, green waste. It is also a source of free garden mulch and the receiving place for spring cleans that happen at any time of the year.
But it is what it says it is –  a transfer station. The contents of more than 38,000 waste bins and 34,0001 recycling bins collected each week from Port Phillip householders head from here to landfill and to SKM's recycling depot and other specialist recyclers.
The RRTS occupies a large site. It is exceptionally rare in Fishermans Bend for being in public – council and crown – ownership. The site has been nominated as open space in the draft Fishermans Bend framework.
It is anticipated that within five years, the RRTS will need to move –  both to make best public use of this precious land  and as the use becomes increasingly incompatible with the growing residential population in Fishermans Bend.
In many areas, people see Fishermans Bend as an opportunity to do things differently and put new ideas and technologies to work.
The Metropolitan Waste and Resource Recovery Group has developed a strategy for a more ambitious approach to waste management in Fishermans Bend, though I was disappointed by how little attention it pays to waste avoidance as a first principle.
Waste, as many observe, is really a design issue. And that includes the design of buildings. Currently recycling rates for apartments are low – 25% to the metropolitan average of 40 – 50%.  It is imperative that in planning for a future 80,000 people, mostly living in multi-unit developments, that planning and building arrangements in Fishermans Bend make avoidance of waste of all kinds and competent recycling the default option.
China's decision to no longer accept our recycling has also revealed the vulnerability of our current arrangements and added urgency to managing recycling differently.
A new site will need to be found in the employment precinct of Fishermans Bend for a facility to put these ambitious ideas into practice. And hopefully we'll still be able to get mulch.
More
1 City of Port Phillip Annual Report 2016/17t