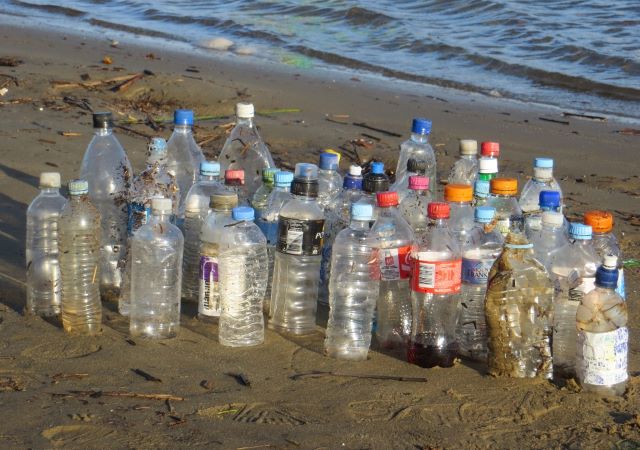 Container Deposit Scheme at last
On Wednesday 1 November, a Container Deposit Scheme (CDS) started in Victoria. 10c can be redeemed for every eligible container.
The CDS could not come soon enough for Ross and Ramona Headifen and the many people who had campaigned for a CDS for over a decade.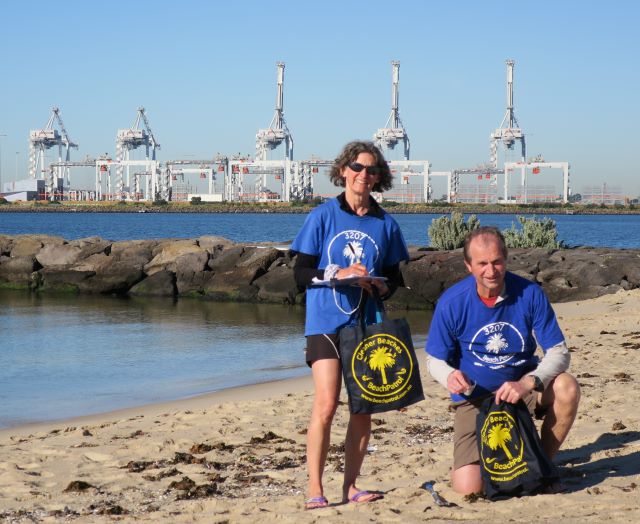 Ross and Ramona convene Port Melbourne's 3207 Beach Patrol, one of a network of volunteer Beach Patrol groups picking up litter off beaches around Port Phillip Bay. Beach Patrol volunteers gather on the first Saturday of each month to pick up litter.
3207 Beach Patrol is complemented by Love Our Street 3207 which picks up litter form Port Melbourne's streets on the third Saturday of each month. (LoS 3207 pick up more litter than 3207 Beach Patrol but attracts fewer volunteers.)
---
For many years, the government insisted that plastic litter was not a significant issue in Port Phillip Bay and that there was no evidence to substantiate it was a problem. This stubborn assertion was contradicted by Beach Patrol's monthly experience. But if evidence was required, Beach Patrol was well placed to provide it. Experienced in research methods and data collection, Ross Headifen has ensured that data has been meticulously and soundly gathered.
At the end of each month's clean, the various litter streams are separated and counted and entered into the Litter Stopper app.
They built the case, month by month, year on year.
Patterns have emerged: hot weather and litter go together like hand in glove. Heavy rain in the catchment means litter on our beaches.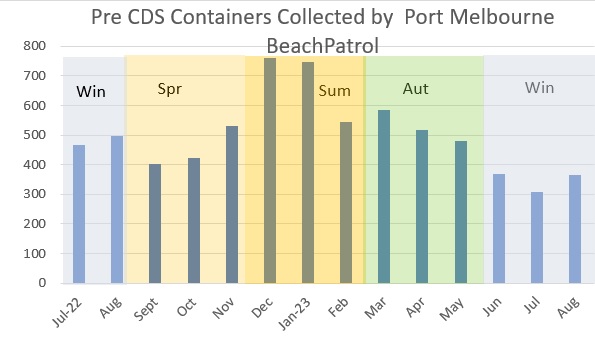 ---
If Port Places has a home, it's where the River meets the Bay under the Westgate Bridge.
It's the last port of call for plastic litter from the combined Yarra and Maribyrnong catchments before it makes its way into the Bay. Plastic bottles lodge in the gaps in the rock revetement. It's a showcase for plastic detritus.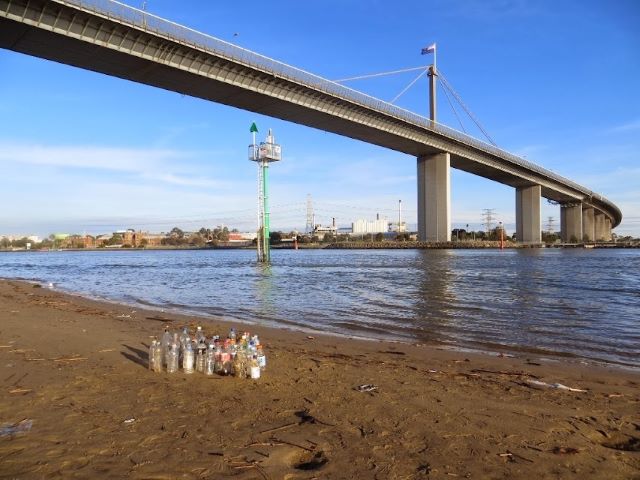 ---
Victoria has had the benefit of learning from the roll out on a CDS in New South Wales. The NSW CDS was introduced in 2017 by Liberal Premier Mike Baird and environment minister Rob Stokes after making it an election pledge in 2015. Once NSW had introduced the scheme, the pressure was on the other large states to follow.
Some headlines from the NSW Return and Earn Annual Report 2021 – 20221:
more than $35 million returned to charities and community groups since scheme commencement via donations and fees from hosting return points
$694 million in refunds paid to consumers via return point network since the scheme began (excluding GST)**
159,500 tonnes of materials re-used or recycled in 2021 – 2022
It's a win win win.
---
Beach Patrol's ongoing and thorough data collection over so many years means it is well placed to monitor the effectiveness of the CDS.
Their monthly beach clean is tomorrow, November 4th at 9.00am when they will begin charting the impact of the CDS.
While there have been many factors playing into Victoria's adoption of a CDS, there is no doubt that the persistent advocacy of community groups and Beach Patrol's without peer data collection have played a role.
1 November 2023 marked not so much a starting point, as a turning point. Our beaches will never be the same – for the better.
---
The CDS gives options. You can choose the 10c refund for yourself, or nominate your bank account, or you can nominate a preferred charity.
Since 3207 Beach Patrol and the Yarra Riverkeeper Association both work towards the health of the River and the Bay, it would be great if you could nominate either of them as your preferred recipient. All this can be done on the CDS East app.
---
There is a Reverse Vending Machine in the Woolworths Fishermans Bend carpark. This machine can accept up to 499 containers. Return-it is the operator in Port Phillip. The app is CDS East.
These early users had been saving up their aluminum cans. Although the rollout has been slow, there is no turning back.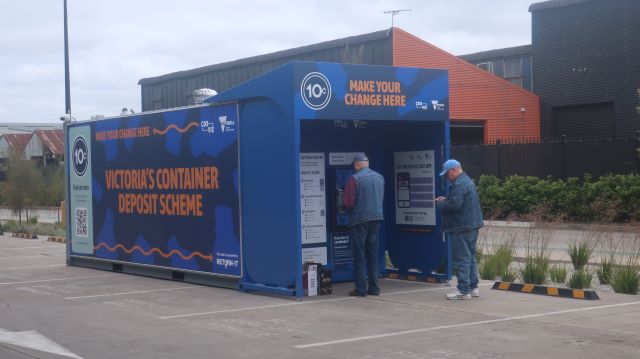 CDS Victoria's website explains how the scheme works.