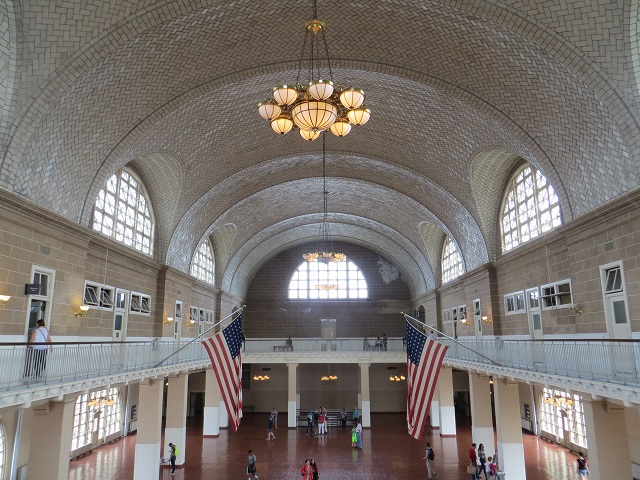 Ellis Island
Port Melbourne's Station and Princes Piers were the entry point for Victoria's post war migrants. Ellis Island has often been raised as a reference point for how the story of immigration could be told at the piers.
America's great immigration happened much earlier. A staggering 12 million people entered America at Ellis Island between 1892 and 1924. This building opened in 1900 to meet the need for improved facilities to deal with the growing number of people arriving.  From the outset it was not big enough. Further buildings were added later on reclaimed land.
The Registry Room (Great Hall) was where people were interviewed and underwent medical and a series of other checks. Some were detained for more detailed investigation. Appeals against decisions were made through a Board of Special Inquiry but only 2% of people were not admitted.
The building is so very large. There is a minimum of interpretation in the Great Hall itself leaving the space itself to prompt reflection. The processes people went through were represented in rooms surrounding the Great Hall in the order that people would have experienced them. Very large photographs of individual emigrants spoke in a way that words could not. The desperate experiences that drove people from their home countries to seek a better life were movingly told.
I was intrigued by the roof of the Registry Room. Does it remind you even a little of the Sydney Opera House's tiled roof?  Rafael Guastavino and his son who had come from Spain in 1881 built the roof with 'self supporting tile arches which were light, strong and fire resistant.'
The open door immigration policy started closing in 1921 with the introduction of quotas,  further strengthened in 1924 as attitudes towards immigration hardened. The centre closed completely in 1954.
On this exceptionally humid, hot day we had the very faintest sense of what it meant for those people arriving at Ellis Island. Very large numbers of people made their very slow way through the airport style security and waited in long hot queues to board the fully loaded Lady Liberty for the short journey to Ellis Island.