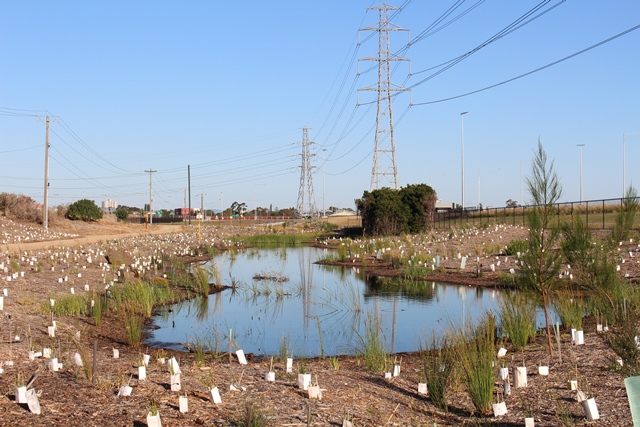 Finding the Yarra River
A new linear park on the Bay side of the Westgate Bridge has been added to Westgate Park, opening up a formerly neglected area of open space to the public for the first time.
The walking and cycling path connects Todd Road in Port Melbourne with the Yarra River more directly than the present route through Westgate Park.
The Friends of Westgate Park had had their eye on the derelict sliver of land between the Westgate Bridge and the Port boundary for some time. Even though it was impenetrably dense with weeds, the Friends could see the potential for creating a wetland along the long damp ditch as well as a generous shared path for the recreational and commuting cyclists who travel across the River by the Punt.
That unkempt area has been transformed by the Friends group and volunteers over the past year into a carefully crafted chain of wetlands richly planted.  The wetlands have filled in this rainy season, and a pair of ducks has led their ducklings to the water (though sadly several chicks have been lost). The Port of Melbourne came on board to support the project creating a matching path through their land to connect with the path through Westgate Park.
On the other side of the Port fence, an array of imported vehicles are lined up for distribution throughout Victoria.
The combination of Port, industry, engineering and nature is not everyone's aesthetic but it's what makes it a Port place to me.
The Friends group is assembling further funds to undertake the next stage of the southern wetlands.
The Westgate Punt operates in the morning and evening peak Monday to Friday and on demand at the weekends  'you turn up, we take you across'.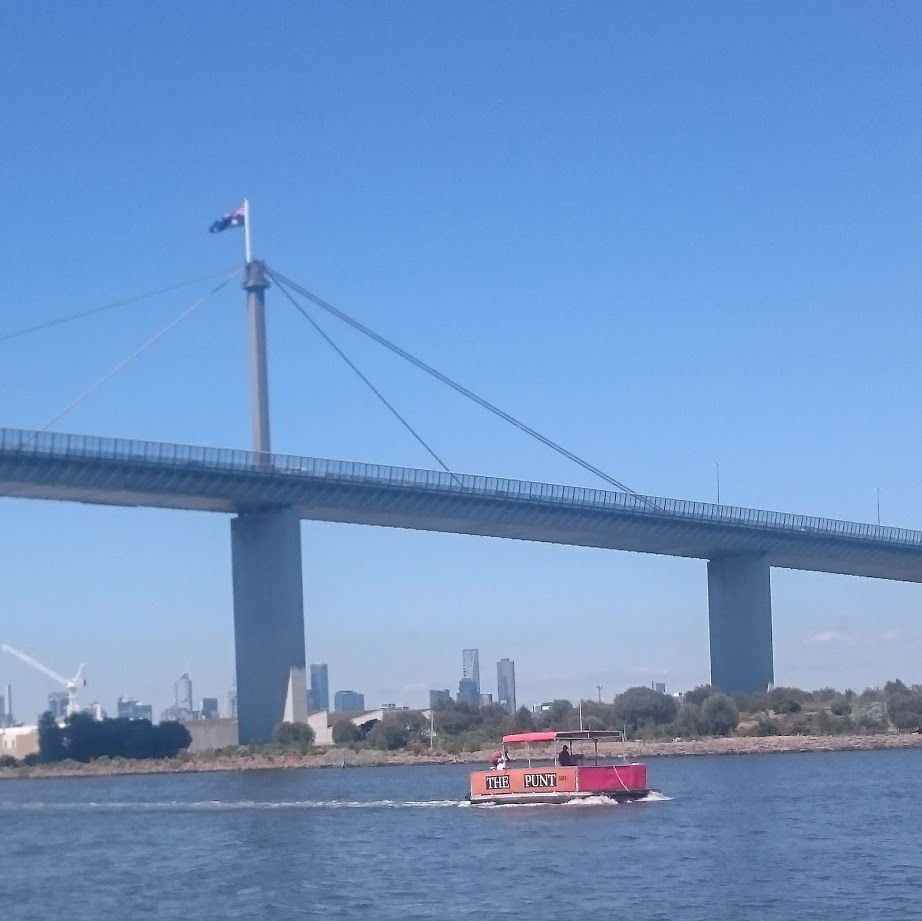 Begin your walk or ride just outside the Todd Road carpark on the Port side. This map shows the new shorter route with rust red markers (to match the corten steel surrounding the Port) and the route through the Park with green markers and some points of interest along the way.