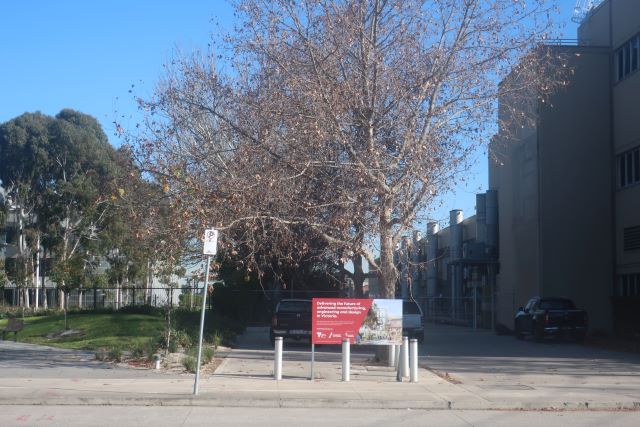 Fishermans Bend update, August 2022
Innovation, and creating the optimum conditions for stimulating it, is at the core of planning for, and thinking about, the former General Motors Holden site1 in Fishermans Bend.
The City of Melbourne, in whose jurisdiction the Fishermans Bend NEIC2 is now located, recently initiated an innovation challenge. They invited responses to the following challenge statement:
As Fishermans Bend NEIC (National Employment and Innovation Cluster) continues to evolve its legacy as a site for innovation, how might we use data and technology to enable a shared and equal understanding of the impact of our daily choices, so we can drive change towards a more resilient future?
EXCX's proposal, Data Flows, was the Ideas Winner. You may remember their other work, Shifting Sand, in Kirrip Park? EXCX aims to bring 'extra context to a site' and 'to create complex, direct and delightful places that invite and challenge people to make new collective and future-oriented stories in urban space'. This work brings invisible water infrastructure to life through data visualisations.
---
Now to recap and go back a few steps, from imagining the future to the sequence of decisions on Fishermans Bend.
The state government bought the 37 hectare GMH site in September 2016. Subsequently, the University of Melbourne bought 7.2 ha of the site for an engineering and design campus for large, experimental research, hands-on learning and collaboration with industry.
And what's happened since then?
In 2021, the government released the policy, Advanced Manufacturing – the Fishermans Bend opportunity. The GMH site sits at the very heart of the policy. It seeks to use this rare and large government land holding 'to catalyse' innovation and advanced manufacturing. The strategy acknowledges, and seeks to build on, the innovation history of the site – 'legacy as a building block for the future', and 'evolving a proud manufacturing legacy into a 21st century innovation precinct'.
Since then the University has prepared a masterplan for the campus which has been approved by the Minister for Planning.
The first stage of the campus is planned to open in 2026.  Stage 1A of the campus will be a super hub for innovation purpose-built for the Faculty of Engineering and Information Technology (FEIT) and the Faculty of Architecture, Building and Planning (ABP), with space for industry to co-locate.
The campus will include 'large, interactive spaces, state-of-the-art facilities and a vibrant innovation environment will push the boundaries in research and development. Here, industry, students and researchers will work together to solve social and environmental issues affecting the world, for a sustainable and resilient future'. Study areas may include architecture, autonomous systems, indigenous place, better and safer buildings, cultural and sustainable landscapes, future cities, healthy communities and infrastructure, urban planning and design.
In the 2020/21 state budget, $179 m was allocated to get the site ready for the University and other possible future tenants for the remainder of the site. The work involves remediation, creating roads and the public spaces provided for in the masterplan. In future, Turner St will cut right though the GMH site to re-emerge on Todd Rd. The works are currently underway, mostly not apparent to a passer by, apart from the re-location of power services which has disrupted traffic on Salmon St over recent weeks.
---
And how will you get there?
It is often said, and said emphatically, that there is no public transport to Fishermans Bend. In fact, Fishermans Bend is well serviced by bus routes 235 and 237 – the 235 via Williamstown Rd and the 237 via Lorimer St. Fishermans Bend is framed by a bus network. Both bus services connect with Southern Cross Station at Collins St. Both bus services terminate immediately outside Westgate Park, an irresistible reason to catch the bus.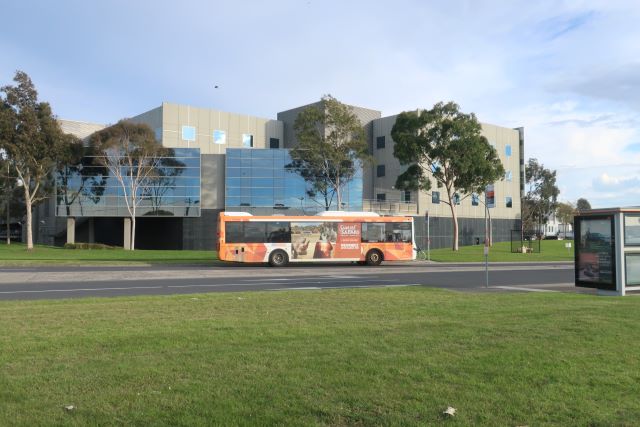 From 30 October, according to a recent announcement from Public Transport Minister Ben Carroll, frequencies on both routes will be increased to a 'turn up and go' service, the level of service aspired to in a well functioning public transport system. The service will be further improved as it transitions to electric buses.
The Fishermans Bend Framework includes provision for a tram along Turner St and Plummer St in the medium term, and heavy rail to Fishermans Bend as student numbers and jobs increase.
Josh Burns, the returned ALP member for Macnamara, promised $3 m in a pre-election commitment to contribute to progressing planning for public transport to Fishermans Bend. Following his re-election, his interest as well as the financial contribution will keep momentum building for planning for the delivery of tram and train to Fishermans Bend in the medium to long term.
---
Oversight
Ben Carroll has succeeded Martin Pakula as the responsible Minister for Fishermans Bend as the Minister for Business Precincts. Having a Minister responsible for both public transport and oversight of the Fishermans Bend precinct is positive.
There's a lot going on – most of it foundational work, physical and social, to realise longer term plans for the future of Fishermans Bend.
1 subsequently referred to as the GMH site
2 NEIC National Employment and Innovation Cluster
---
More
Bus route 235 City to Fishermans Bend via Williamstown Rd
Bus route 237 City to Fishermans Bend via Lorimer St
Watch EXCX make their pitch here or follow them on instagram @_excx
Advancing Manufacturing – the Fishermans Bend opportunity
View the University of Melbourne's vision for the campus at Fishermans Bend.
University of Melbourne Fishermans Bend campus masterplan documents – Amendment C371
| | |
| --- | --- |
| | some dates for reference |
| September 2016 | Victorian Government purchases the 37 ha General Motors Holden site |
| December 2017 | The University of Melbourne purchases 7.2 ha of the General Motors Holden Site from the Victorian Government |
| 1 September 2021 | Minister Wynne approves University of Melbourne masterplan for the Fishermans Bend campus |
| | |