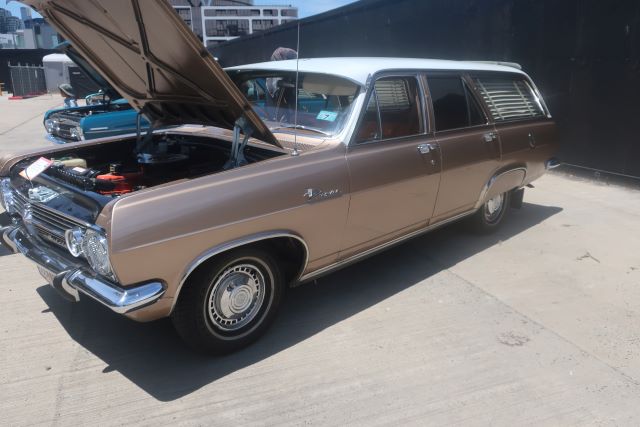 Celebrating Holden at Shed 21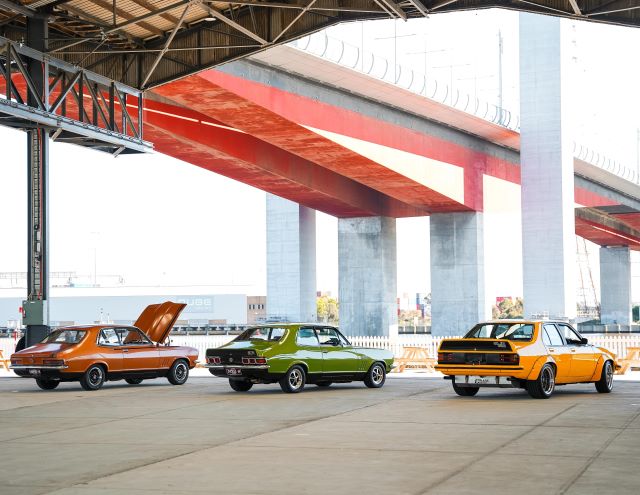 On Sunday 4 December, Shed 21 came into its own. The huge shed had plenty of space for line upon line of carefully placed, evenly spaced, Holdens.
In opening the event, City of Melbourne Deputy Lord Mayor Nicholas Reece acknowledged the Australian icons, Holden and Vegemite, that have come out of Fishermans Bend. He paid tribute to the many former workers present – 'You helped build Australia'. He even had his own Holden story, accompanying his father in a procession of Holden cars from Fishermans Bend to Bathurst. Energetic in his speech, he did not dwell in nostalgia. Rather, he invoked the sense of mission that had driven the innovation at Fishermans Bend – the first car, the first aircraft – that will drive the City of Melbourne and State Government's support for advanced manufacturing and engineering in Fishermans Bend.
---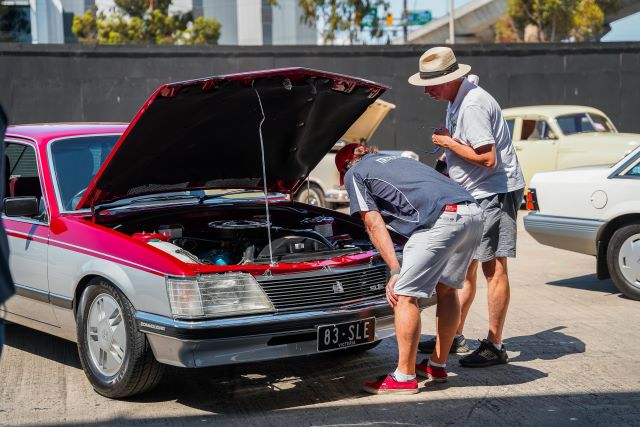 The array of 50 gleaming Holdens, open at front and back, were arranged in the order of their making from 1948 to the very last models manufactured in Australia. Not having the literacy to make sense of what happened under the hoods so invitingly opened, it was the colour and the stories that attracted me.
Here are some of the colours, and colour combinations:
Marlin blue, cashmere white
Morning blue over asteroid silver
Papaya
Daytona bronze with sandalwood trim
Cognac metallic
Ermine white with parchment trim (one of only six, and only one surviving)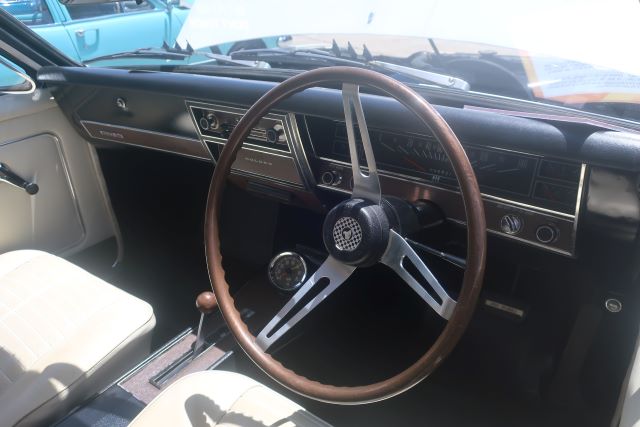 ---
The event was a pop up museum. Each Holden owner was a curator, custodian and guide. Fifty cars and fifty interpreters of the very particular attributes of each car. Each participant was invited to complete a short template with details about the car and why it was important to them which was propped in easy view.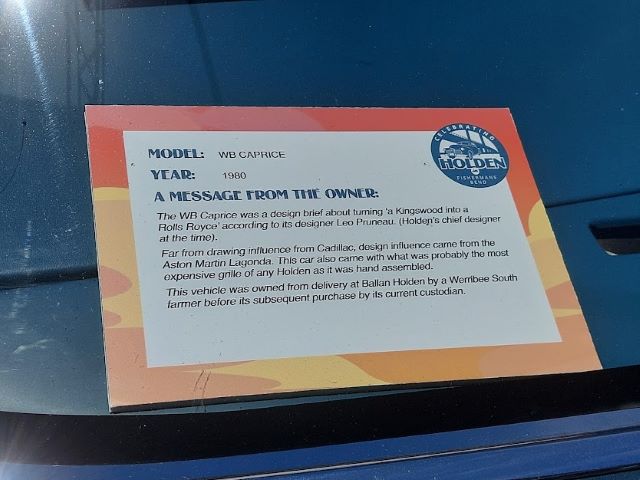 For example
"The WB Caprice was a design brief about turning 'a Kingswood into a Rolls Royce' according to its designer Leo Pruneau, Holden's chief designer at the time. Far from drawing influence from Cadillac, design influence came from he Aston Martin Lagonda."
And another
Mrs Beryl Miskin bought her Camira, Marlin blue and Cashmere white, brand new in 1987 and owned it to 2012. In all that time, she garaged it when not in use. Thanks to her care, it still has its original paint, full original documentation and 'drives like new'. A tribute to Beryl Miskin was posted in the rear window. The car is now fondly known as 'Beryl' and the meticulous care continues.
---
Panel of experts
Two expert panel sessions involving former design personnel were held on one of the padel courts.
Several of these men had worked at Holden for over 25 years, Professor Laurie Sparke for 43 years.
Panelists recalled how easy it was to get a job when they started and acknowledged their good luck to have worked at Holden at such a fortunate time. There were many opportunities to move within Holden into different areas and departments. Several spent time working at GM in the US.
The excitement of the work persisted in their stories.The shared feeling seemed to be 'someone's paying me to do this?!'
'I loved going to work every day. I never lose the passion for the Holden brand and what Holden contributed to the lost Australian Car Industry' (Steve Smith, former Body Structures Senior Design Engineer)
Holden also had a small but significant research and innovation capacity which made an impact way beyond the size of the team. Its work in vehicle safety was ahead of the field even internationally.
Whereas style and design were perhaps the outstanding features of the 1960s and '70s at Holden in Fishermans Bend, by the 1980s safety and environmental considerations were coming to the fore.
In collaboration with CSIRO, Holden developed the first hybrid-electric vehicle – the only one of its type in the world at that time. The ECOmmodore led the torch relay for the Olympics in 2000.
---
The event was the public celebration of the Holden and its place in Australian life that was not held in 2017. Perhaps it was too raw to hold it then.
The well attended, cheerful celebration marks a turning point. No more looking back, time for looking forward.
Following the Andrews Government's decisive election win, it is well past time to put the Matthew Guy rezoning legacy in Fishermans Bend behind. The vision for that part of Fishermans Bend downstream of the Bolte Bridge, the NEIC1, is to build on the historic legacy of innovation and support advanced manufacturing and engineering. With a Minister for Manufacturing Sovereignty, Ben Carroll, the time is now.
What might the jobs and products be that a panel of women and men might look back on with comparable pride forty years from now?
---
1 NEIC: National Employment and Innovation Cluster