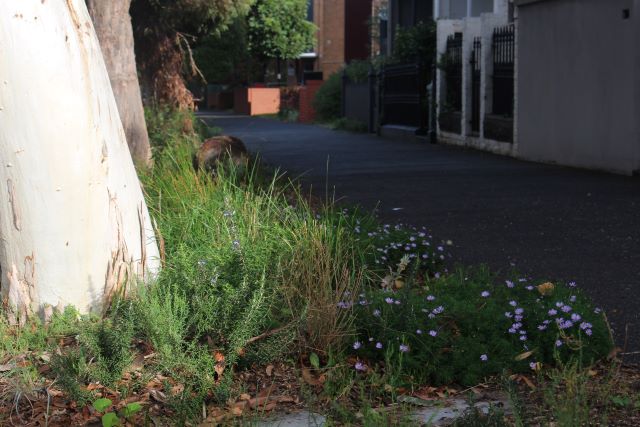 Patching the urban fabric
Can a footpath garden make a positive difference to biodiversity?
Lenore Fahrig, speaking at a recent City of Melbourne Urban Nature symposium, challenged the idea that biodiversity richness could only be achieved in large areas. The research she relied on was not specifically about urban places, but the frequency with which she used the word 'patches' in a scientific context appeared to vindicate local biodiversity initiatives.
Patches suggest repair. They suggest care.
Patches stitched together can create patchworks, or pollinator corridors, if you're Emma Cutting.
Emma started street gardening in late 2019. The anchor of the Heart Gardening project is the flourishing garden on the south western corner of Moray and Cobden Sts in South Melbourne. In the early days, the garden was deliberately and repeatedly vandalised. She feared the realisation of her vision for street gardening would be thwarted by restrictive council nature strip guidelines.
In the bleak days of lockdown, she hatched an ambitious plan to connect the Royal Botanic Gardens with Westgate Park, one street garden at a time.
Now that first garden on Moray St has settled in. It's been through several seasons. It is tended but not over managed. Seeds, dead flower spikes and leaf litter all play a role in the life of the garden. Seedlings pop up of their own accord. A magpie lark struts about.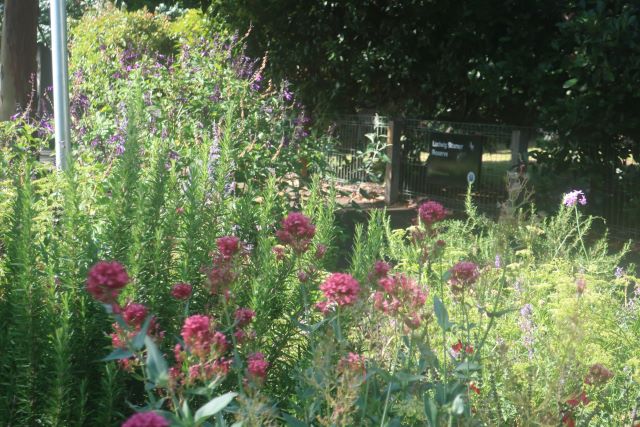 Emma recently planted gardens 18, 19 and 20 of the Melbourne Pollinator Corridor on the other side of Moray St. Whereas she started gardening using hardy exotic perennials, she is now using more locally indigenous plants. They are more likely to attract the insects with which they co-evolved. Emma draws from the City of Melbourne's urban nature planting guide for plants that will provide for the caterpillars of local butterfly species.
She loves being out in the rain, observing how the gardens respond. She's satisfied to find the rain absorbed, rather than running off the Bank St gardens in the corridor.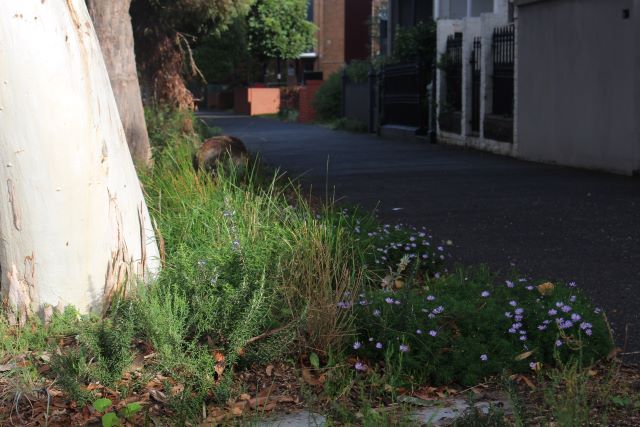 Emma is aiming for 60 street gardens by the end of the year. By the end of 2024, through distributed street gardening, she hopes to have 18,000 indigenous plants in 200 gardens in the Pollinator Corridor.
As interest in the project grows, and new gardens are added, Emma's bold plan now seems quite achievable. Who wouldn't want to be part of it?
Matt Novacevski1 proposes that we look at places for 'their ability to nourish life'. The gardens in the Pollinator Corridor do so, abundantly.
---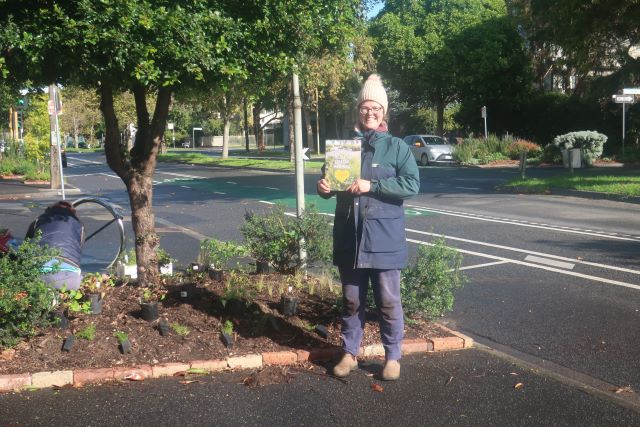 Emma is taking applications for 40 Melbourne Pollinator corridor kits which contain everything you need to create a garden in the Melbourne Pollinator corridor including the Melbourne Pollinator Corridor Handbook, developed from on the ground experience and the advice of a range of experts. Applications close on 16 June (if the kits have not run out by then)
More
Follow Emma and the Heart Gardening Project on instagram
The Melbourne Pollinator Corridor
City of Melbourne Urban Nature Planting Guide
1Matt Novacevki Looking through Layers: Evaluating the Impact of Placemaking Activity