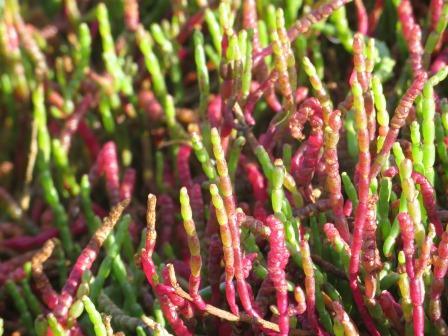 Saltmarsh
Planning is about to give way to implementation of the Port expansion project at Webb Dock.
The Port project gives, and it takes away. It gives a landscaped pathway around the perimeter of the expanded Webb Dock but it takes away the last remaining saltmarsh on this side of the river.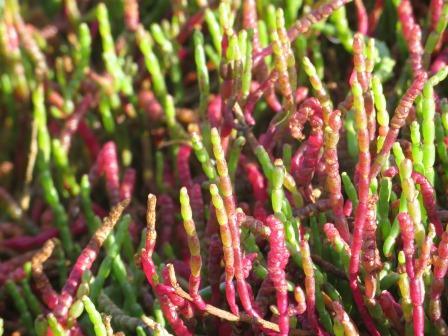 Today, SKINC Nursery and Friends of Westgate Park took cuttings, seeds and whole plants from the remarkably intact saltmarsh – soon to be cleared. The plants will find a new salty home in nearby places – and extend the saltmarsh plant community  at Westgate Park. But most of it will just be bulldozed and dumped.
In the consultation phase for the Port expansion project, Port Places argued that, as well as  providing for recreation, the pathway could and should (in recognition of what is to be removed)  include representative plants from the Yarra River mouth along the length of the linear pathway.  The new 'Waterline' could make the most of a rare opportunity for biodiversity links between the Bay and the Yarra River.
Ideally the path would join seamlessly with the Sandridge foreshore which it adjoins. The recently re-landscaped Sandridge foreshore uses locally indigenous species in a contemporary style, as well as providing a separated bike and pedestrian path.
As reported previously, the legacy of the earlier 1998 expansion project was the Webb Dock East pathway. At that time, there was some debate about the nature of the landscaping of that extensive walkway. Eventually, locally indigenous plants were chosen which give a sense of local coastal identity as well as giving superb fairy wrens a home right out over the water.
Since opportunities to create open space in this part of the world are few and far between, the most needs to be made of the opportunities that present.
A recent forum on the potential for nature in cities held at Deakin Edge highlighted the pressures on biodiversity in cities around the world. The Melbourne assessment reveals a city relying on its historical legacy of parks and trees. Future trends are less encouraging with urbanisation at the fringe and within the city causing ongoing biodiversity loss.
The Melbourne assessment can be found in the volume Urbanization, Biodiversity and Ecosystem Services: Challenges and Opportunities (Chapter 20) which is freely available from Springer.