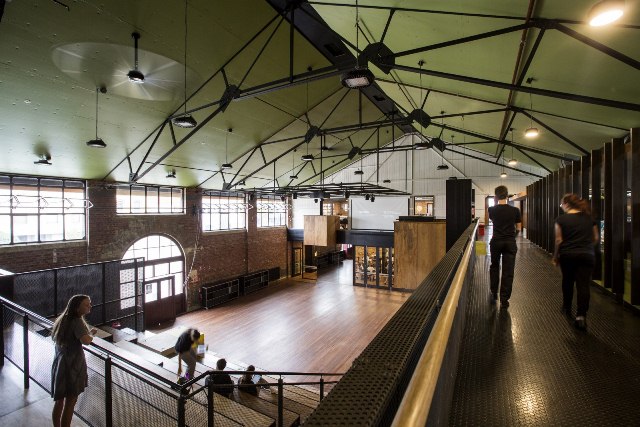 Six Degrees – Two Awards
Six Degrees Architects work on the Albert Park College Environmental Arts Hub received two awards at the 2017 Victorian Architecture Awards: the Henry Bastow Award for Educational Architecture and the John George Knight Award for Heritage Architecture
Amid the lamented recent loss of local heritage buildings, the sensitive restoration of the former Sandridge Post Office and its co-joined Naval Drill Hall by Six Degrees architects is a welcome antidote. Six Degrees has created a flexible and enabling setting for the Year 9 Environment and Arts hub of Albert Park College to be an inviting, inquiring learning place in the community.  The award recognised that the school 'is a shining example of how heritage places can be creatively adapted to take on a new and important role in their communities'.1 
Not only that, but these important Victorian civic and public buildings have secured a new lease of life to serve a new generation.
The hub is the union of buildings by two distinguished architects. The Post Office is a design of the precocious and prolific colonial architect John James Clark. The yellowy brick reveals it as one of Port Melbourne's earliest surviving buildings. The red brick Naval Drill Hall was purpose built for the newly formed Royal Australian Navy in 1912 by John Smith Murdoch, later to become the Chief Commonwealth Architect.
A day to day passer by of this community, the treatment of the outside of the buildings is of greatest interest to me. The entrance is skilfully created in the space between these two buildings, allowing the integrity of both buildings to be maintained. The brick work of the Post Office has been attended to and repaired, possibly for the first time? Unsympathetic additions have been removed to allow the original buildings to be fully themselves.
It is so fitting that the buildings should be full of the energetic and creative life of young people.
John James Clark was only in his twenties when he designed the Sandridge Post Office in 1862.
A decade later the Government passed the 1872 Education Act which, for the first time, made education compulsory, free and secular. A massive school building programme followed under the direction of  architect and surveyor Henry Bastow (after whom the Education Award is named). In the first five years of the programme, 615 schools were created. This huge achievement was made possible by Bastow drawing on a range of templates, but the schools were nevertheless designed with sensitivity to local conditions, environments and materials. Above all the schools were designed to 'make a statement – that education matters'.2
In 2017
The Andrews Government is making the biggest investment in schools since that school building boom of the 1870s to try and meet the intense demand for school places.
The South Melbourne Ferrars St Primary School, the first vertical primary school in Victoria, is well underway and on track to take enrolments from 2018.
In 2016, the school's architect,  Hayball won the Future Project of the Year Award at the World Architecture Festival. The jury citation found it to be 'an innovative and inspiring vertical campus'.
Richard Leonard, director of Hayball, is excited about creating a setting for 'education not just for children but the whole community'.
Other projects at various stages of planning and development in the area include South Melbourne Park Primary School, Docklands Primary School and Prahran Secondary School
These projects support Bastow's legacy by 'making a statement – that education matters'.
More
1  2017 Architecture Awards Celebrate Places for People
2 History of Education in Victoria
The spectacular career of John James Clark, architect of the Treasury Building in Melbourne, is summarised by David Saunders in the Australian Dictionary of Biography
To see the South Melbourne Ferrars St School Hayball Vertical School Rising, drone footage May 2017