No rest for the committed. The day after the Global Climate Strike, it was the second Spring Clean the City.
The gathering place was Queensbridge Square on the Southbank Promenade. Not so much a successful public square as an intersection of spaces that are moved through rather than lingered in. Even though the Red Stair amphitheatre provides some definition and a place to bask in precious sun in this shadow dominated part of the world, it never looks to be as populated as this super dense area suggests it should be.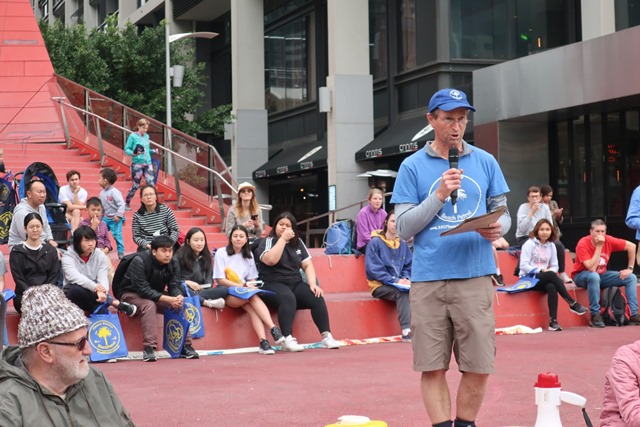 Perhaps the unresolved feeling of Queensbridge Square lies in the absence of any recognition or interpretation of its significant history. Queens Bridge follows the alignment of the Falls that for tens of thousands of years separated salt from fresh water on the Birrarung (Yarra). Remnant rocks can still be seen if you peak over the Bridge. The removal of the Falls irrevocably altered the nature of the Yarra River.
Perhaps it also lies in the loneliness of the Queensbridge Hotel, now heritage protected, but overwhelmed by its super tall neighbours – Prima Pearl (72 levels) and Freshwater Place (63 levels). The hotel is part of the site known as One Queensbridge owned by Crown. Some years ago a permit was issued for the country's tallest tower. The controversial permit has not been renewed. The permit required a suite of public benefits including reworking the Southbank Promenade that will now no longer be delivered through this mechanism.
Queensbridge Square offered perfect public exposure for Spring Clean the City and displaying its results.
Spring cleaning!
Domesticating the city – our home. Spring cleaning is to clean ALL of a place very well including parts you do not often clean. The gridded city was broken up by the organisers into quadrants and small groups set forth to pick up just four categories of litter – plastic straws, coffee cups and lids, other cups and lids and drink containers.
It was a perfect opportunity to fossick in Southbank – outside the grid. City Road yielded little litter – nothing doing. Was that because no one walks this hostile traffic dominated street? Doorways of places destined to become construction sites had offered shelter for takeaways – remnants of which were neatly tied up in plastic bags. The difference between care and no care was obvious. The impeccably concierged entrance of Bella Hotel apartments contrasted with the barrenscape under the freeway where litter gathered abundantly.
And then to return along Southbank along the River.
Changing tack
This week David Yencken died. He was Secretary of the Ministry for Planning and Environment under Planning Minister Evan Walker in the Cain government in the eighties. Their partnership is strongly associated with the transformation of Southbank from a run down post industrial waterfront to an urban waterfront.
Thirty years later, Southbank is Melbourne's densest suburb characterised by some of Melbourne's tallest buildings. Inventive ways of creating and connecting open space for the area's ever growing population are a necessity. City of Melbourne Councillor Nicholas Reece is excited about the possibilities of better connecting City Road and the River. In the 1980s, under Walker and Yencken, Melbourne re-connected with the Yarra River. Now in 2019, there is an even stronger appetite to connect with a living, healthy River.
Back to the purpose
There are now thirty Beach Patrol groups complemented by seventeen Love Our Streets (LOS) groups. Preventing litter reaching beaches in the first place was the motivation for LOS founder, Jill Sokol. There are many facets of the success of Beach Patrol and LOS. Primary is the exceptional dedication, warmth and intelligence of the key organisers. The groups are social – 'we're a no guilt group' says Sokol – but strong with purpose. Only an hour commitment once a month suits time poor people. The model is easy to replicate, so it's easy for new groups to form. A shared website for all groups provides a framework that ties the groups together. There's no cost to being involved. Each group has a distinct place based identity.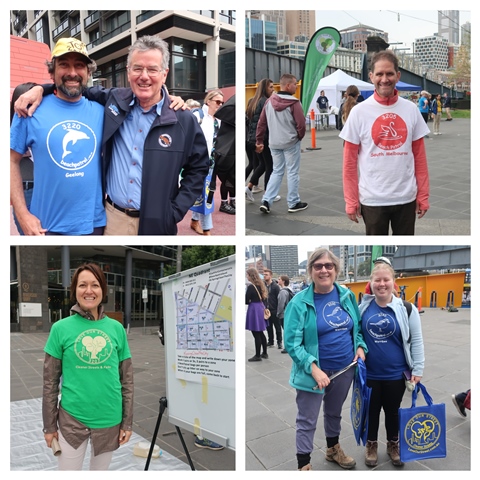 In spite of years of community concern about plastic litter, the lack of accurate data has been used as a reason not to take stronger action. Beach Patrol and LOS are deeply serious about data and audit all litter collections. They have also developed the easy to use Litter Stopper app. Users can enter what they pick up or sort and record from 1 or up to 24 of the most common plastic litter items found. It has been designed to work with Tangaroa Blue's Australian Marine Debris Initiative data base.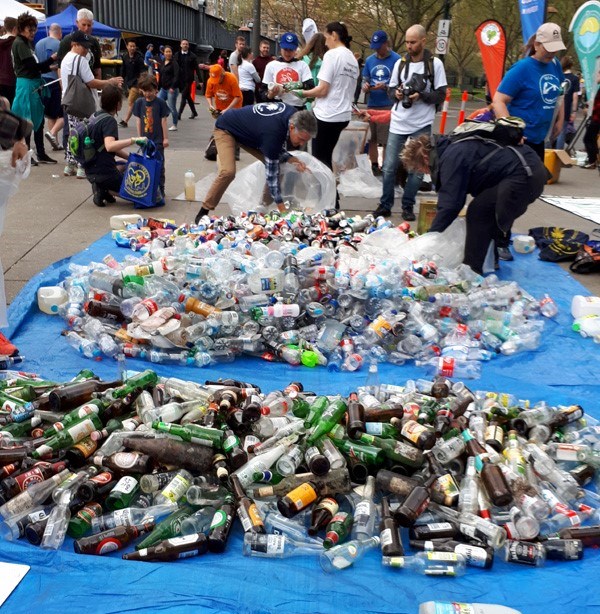 Earlier this month, Beach Patrol won Keep Australia Beautiful's Litter Reduction award. Gratifying recognition. But the real reward for Beach Patrol organisers would be the introduction of a container deposit scheme. Victoria is the only state in Australia without this legislation. The government's reluctance to adopt CDL is a frustrating mystery to Beach Patrol.
2,218 bottles were collected in less than 2 hours during Spring Clean the City.
More
Visit the Beach Patrol website for details of a beach or street clean near you.
Jewel Topsfield writes about David Yencken in The Age July 6, 2019 The man who helped re-imagine Melbourne