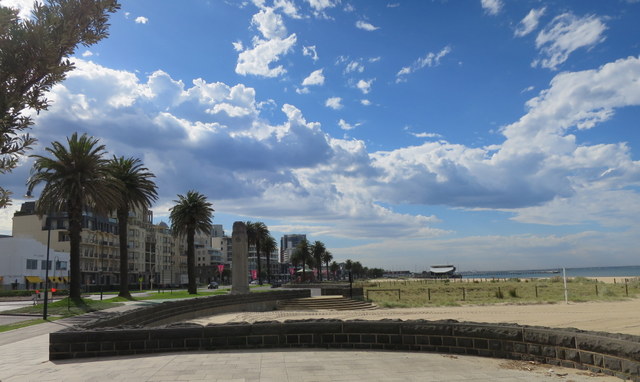 Winter sun
This solstice week has been mid-winter cold with a low of 30 on the 19 June.
When the sun comes out, it's like a magnet. The shaded bench is ignored in favour of the sunny one, and the cafe with tables in the sun wins the patrons.
In 1999 when planning activists campaigned against a high rise future for Port Melbourne's foreshore, some landowners argued that it didn't matter if the foreshore was overshadowed since people don't use the foreshore in winter. How wrong they were! When the Bracks government was unexpectedly elected in 1999, then Planning Minister John Thwaites enabled mandatory height controls for Port Melbourne's foreshore which protected the promenade from winter shadowing. That fundamental principle, of maintaining winter sunlight to this important public space, was embedded in the City of Port Phillip's planning scheme. It's a principle that needs constant upholding and attempts are made to undermine it from time to time.  In the controversy surrounding the replacement building for the London Hotel, VCAT and the Council have upheld that principle of not overshadowing the foreshore. When 1-11 Waterfront Place returns to VCAT in July, the principle will no doubt be in contention again.
There is perhaps less attention paid to exposure to winter sunlight in order to get adequate Vitamin D than to high and extreme UV in summer. The Cancer Council advises that "in late autumn and winter in some southern parts of Australia, when the UV Index falls below 3, spend time outdoors in the middle of the day with some skin uncovered."
This seemingly straightforward advice is becoming increasingly difficult to heed in the central city as Melbourne becomes ever denser. Ensuring that the city provides adequate access to winter sunlight has become a fundamental civic and public health responsibility. Planning custodians for public space face the double challenge of providing sufficient shade for increasingly hot summers and access to sunlight in winter.
Until now, access to winter sunlight between 10 am and 3 pm on the winter solstice has been reserved for 'key public spaces' in Melbourne such as Birrarung Marr, Federation Square and the State Library forecourt.
The City of Melbourne is now seeking to extend that protection to other parks in the municipality, arguing that everyone has an equal right to access winter sunlight.
The intention of the City's proposed planning controls is that any future developments should not make overshadowing any worse. Many towers of 200m and above are already in the system – either under construction or yet to be built – and their effects are yet to be felt. These buildings cast, or will cast,  long shadows. So long, that a shadow south of Collins St can reach the upper terrace of Birrarung Marr. Recently VCAT upheld the Planning Minister's decision to reduce the height of a development at 63 Exhibition Street from 230.00m AHD  to 194.8m AHD to avoid overshadowing the upper terrace of Birrarung Marr in mid-winter.
The Tribunal concluded that "pressure for Birrarung Marr to provide quality public open space will continue to increase and not lessen over time" and made the pointed observation that future residents of  63 Exhibition Street may well want to avail themselves of sunlight at Birrarung Marr.
The proposed planning controls in Amendment 278 are supported by a report 'Sunlight access to public parks'.
In a damning finding, the report notes that five parks in Docklands are already fatally compromised by overshadowing in winter including the Buluk Park outside Library at the Dock – intended to be the community gathering place. Even the new Ron Barassi snr Park is already pre-determined to be overshadowed by future development.
To avoid repeating this mistake, and knowing the importance of parks to the future liveability of Fishermans Bend, the planning controls were drafted to protect the key precinct parks from winter overshadowing. It remains to be seen whether the Planning Panel will support them.
The City of Melbourne has asked the Minister for Planning for authorisation to exhibit Amendment 278 and to place interim controls onto nominated parks. As SJB planning put it, the approach "represents a seismic shift in expectations".
More
City of Melbourne Amendment 278 Sunlight to Parks
VCAT 63 Exhibition Street Pty Ltd v Minister for Planning [2018] VCAT 861 (4 June 2018)
Hodyl & Co Sunlight access to public parks modelling analysis report prepared for the City of Melbourne February 2018
SJB Planning To shadow or not to shadow – that is the question