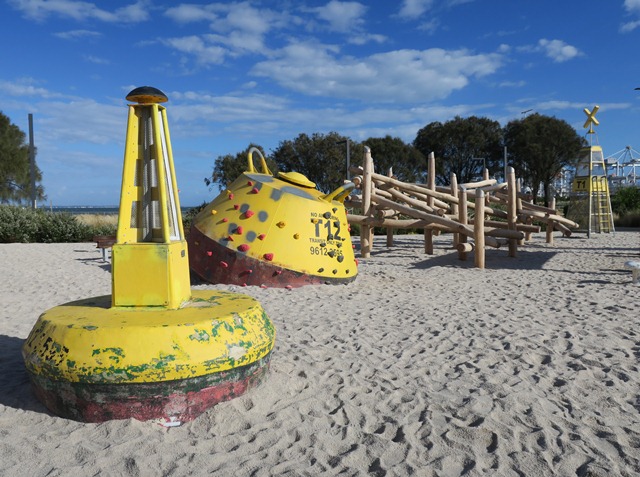 A very PORT park
In the farthest corner of Port Melbourne where it meets Webb Dock, an eagerly awaited new park and playspace opened this week.
The community park is the last of the public benefit works to be delivered as part of the Port Capacity Project which included the upgrade of the Webb Trail and the Todd Road linear park.
The playground was Helen Kuchel's idea. Helen is a strong and longstanding community advocate on Port of Melbourne projects. A community representative on the Webb Dock EES in the late '90s, she was also a member of the Project Liaison Group on the Port Capacity Project. She was insistent, and persistent, in putting forward a playground to be a legacy of the Port project.
Oculus designed the playspace. They also created the inspired connection between Docklands and North Wharf – the Jim Stynes Bridge – a gently curving, comfortably separated walking and cycling path under Wurrundjeri Way.
You know how sometimes people say that children's playgrounds are boring, all the same, without challenge or interest?
Not here. There is nothing generic about this playspace. I don't recall seeing a skerrick of plastic. The materials are wood, steel, rope and sand and re-purposed Port equipment.
Children at Port Melbourne Primary came up with ideas for the playground. How amazing it must be for those children to see their ideas take shape and form so imaginatively in this park.
This is not just a playspace. It is a Port playspace.
Old Port equipment has been re-used to great effect throughout the park. It's bold, it's robust and it's colourful. The buoys and beacons, rail lines and ladders, all tell the history of the Port in a playful way while the new cranes of the VICT terminal make the future visible.
Natural materials and objects have been comfortably incorporated into the park with tree trunks for sitting or clambering. The plants chosen for the park match the indigenous vegetation of the larger site within which the playspace sits.  The soft fall is sand – just right for this coastal location.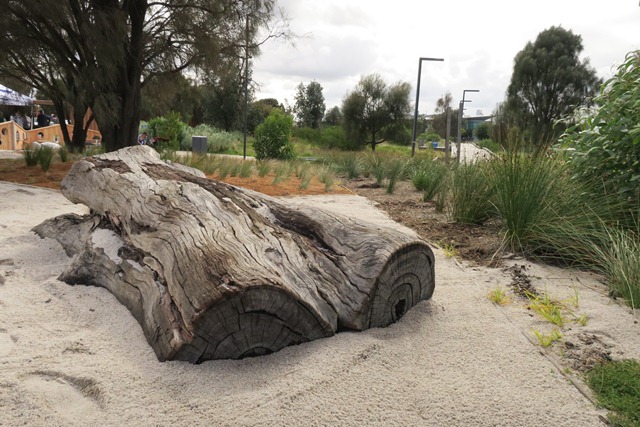 Look at how these steps have been chiselled into the wood to make a ladder – almost sculptural.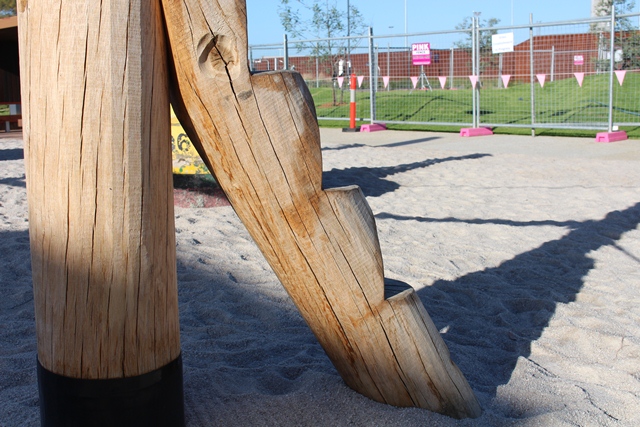 The park caters for small children (and the comfort of their parents) as well as older children. The low bench enables a caring adult to be at the same level as a small child.  All the equipment stimulates physical activity and engagement – scooping sand, pumping water, balancing.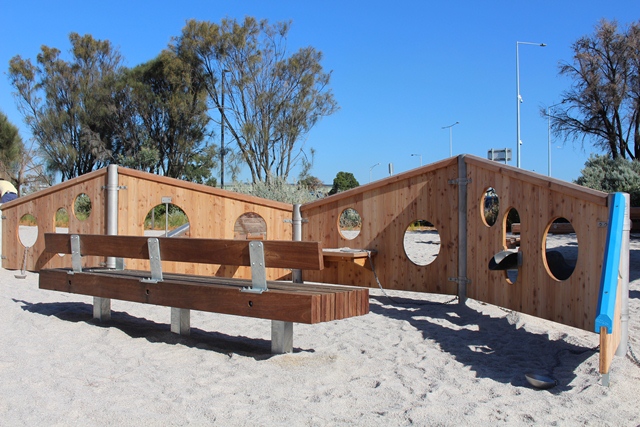 Fanfare for the playground makers!
More
This is just one stop on a walk between the Sandridge foreshore in Port Melbourne and the Yarra River.