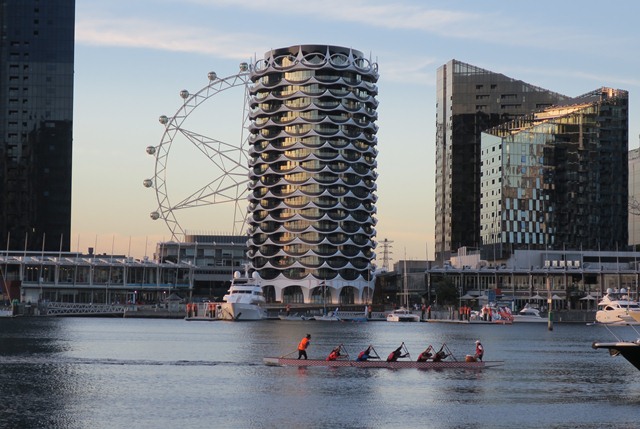 Banksia at NewQuay
In 1995, Michael and Andrew Buxton created MAB Corporation and kickstarted waterfront development in Port Melbourne when they created the Anchorage from the former Swallow and Ariell biscuit factory.
Two years later MAB entered into a development agreement with the then Docklands Authority for the precinct now known as NewQuay, Docklands.
Twenty years later . . .
The trigger for my interest in NewQuay has been the emergence of Banksia, an apartment tower inspired by the plant of that name, designed by McBride Charles Ryan.
The shape of Banksia is designed to ameliorate the wind impacts associated with Docklands. From across the water, it looks as though a crown sits on top of the building.
Banksia was required to be delivered with a park above underground carparking. The Park was to replace the wind swept, concrete, desolate piazza.
In February 2016 I dreamed of a banksia themed landscape to complement the building.
Imagine my excitement when returning to the site this week to see banksias fringing the park as well as taking pride of place in the centre of the lawn. The banksias are just one element of a richly planted indigenous landscape.
The park has a formal design enclosed by stone retaining walls which I learn are called gabions.
It still looks very new and not quite settled yet, but people were already using the park.  No doubt the park is over-planted but that will allow for some attrition until a micro-climate develops amongst the trees. I look forward to returning within a year to see how the park matures.
In due course, NewQuay Central Park will  be connected to the isolated Ron Barassi snr Park by a linear park to be created as part of future development.
Perhaps, emboldened to dream on by this park success, these linked landscapes will one day extend to embrace the terribly abused and neglected Moonee Ponds Creek which bounds the Ron Barassi Park.
NewQuay Central Park is connected by strong pedestrian crossings to District Docklands (a transformation of the dismal Harbour Town) which includes a partnership with the Docklands Arts Collective as well as shops, supermarkets and cinemas.
A site for a Docklands Primary School has been chosen nearby and design principles firmly established with a strong emphasis on incorporating nature:
"The school will be a 'learning landscape', where green gardens and outdoor learning spaces are as important as indoor learning spaces."
The Buxtons have curated a series of shapely buildings from different architects at NewQuay: Marina Tower (DKO Architects), Banksia (McBride Charles Ryan) and Aqui (Woods Bagot) to create a very interesting skyline – especially as sunset.
Tram route 70 leaves from Flinders St and trundles past Etihad Stadium before the final stop at NewQuay Central Park.
More
A new Docklands Primary School
Follow