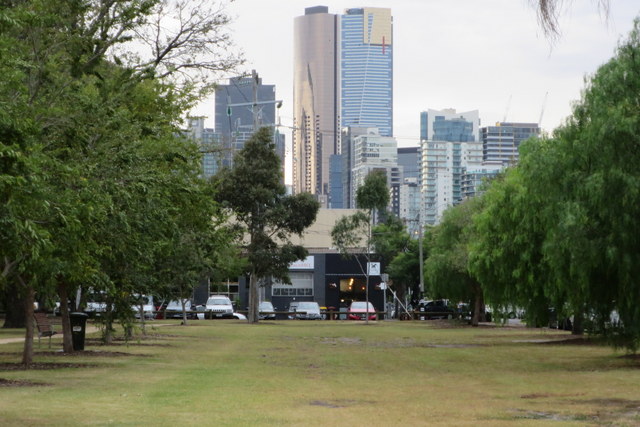 Boundary – Port & Montague
Boundary Street separated Montague in South Melbourne from Port Melbourne when those differences mattered. It is now the line between the Capital City Zoned Montague and the low rise Port Melbourne houses on the other side.
Just refreshing on the planning stuff … bear with me.
Montague is part of the Fishermans Bend Urban Renewal Area (FBURA), even though we know that Montague was never part of Fishermans Bend historically.  All of Fishermans Bend is covered by the Capital City Zone. The planning controls for Montague are set out in the Strategic Framework Plan (SFP) put in place by the Napthine government in 2014. These controls now sit in the Port Phillip Planning Scheme.  In the absence of any alternative direction from the Andrews government, the SPF provides the guidance for those who make the planning decisions – at present the Metropolitan Planning Authority (MPA) and the City of Port Phillip (CoPP).
CoPP has statutory responsibility* for several permit applications that are live and under consideration in Montague. People living in Montague (yes, there are people living there) are feeling the pressure of multiple permit applications for sites large and small in their immediate neighbourhood. They have no say as there are no third party appeal rights in the Capital City Zone.
Approaching Montague from the Port direction, change is looming.
I've got attached to Foxtrot, the coffee shop on the corner of Boundary and Gladstone Streets. Where else would you be served by the woman with the tea pot tattoo? Only recently a chips and pies sort of milk bar, it is now frequented by architects, creatives – it is a place in rapid transition.
This low key corner, also tenanted by Father Bob's Foundation, is being offered for sale. The prospectus for 196 – 202&204 Gladstone Street says the major emphasis of the development will be
'maximising any park and bay views from as many apartments as possible. The unique position overlooking Walter Reserve creates a direct passageway to Port Phillip Bay whilst also ensuring those lower level apartments enjoy views straight out across the park.'
A place where once workers crossed the line to the factories on the other side is about to be transformed. The boundary is being re-negotiated.
Notes
1.  * City of Port Phillip has responsibility for planning decisions in FBURA for developments with
Building height below 4 storeys;
Use and/or development below 60 dwelllings
Use and development with a gross floor area below 10,000 sqm
source: Fishermans Bend Development Assessment and future community engagement processes