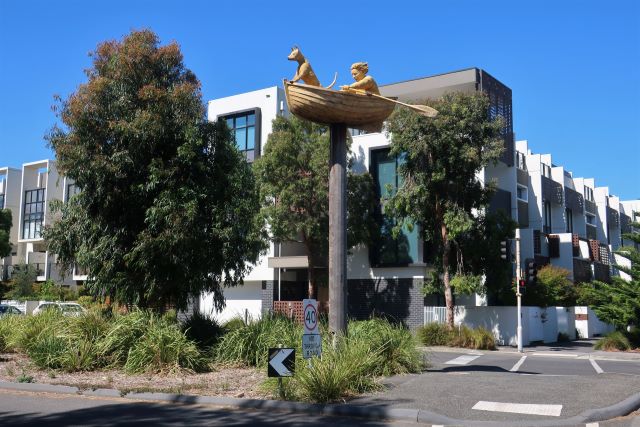 Glass works
There is always more to uncover about the 'sand' history of Sandridge, now Port Melbourne. Most sand stories have been associated with Fishermans Bend but this one is closer to home.
The scale and extent of sand removal, is staggering. Between 1870 and 1873, the Lands Department reported issuing a total of 5,500 licenses for sand removal from Emerald Hill and Sandridge.
In 1872, Felton Grimwade took advantage of the abundant sand supply to set up the Melbourne Glass Bottle Works opposite where Gasworks1 is today to make bottles for their pharmaceutical business in Ingles St. The site was chosen for the convenience of shell grit from Hobsons Bay and the proximity to the Sandridge sand pits. Indeed there was nothing between the Glass Bottle Works and Hobsons Bay but the defence reserve. The Melbourne Glass Bottle Works is said to have been the foundation of glass bottle manufacturing in Australia 2. When the business grew, it moved to Spotswood. The site of the Glass Works later became the Gasworks Meter Shop.
In December 2020, the Commonwealth Government passed legislation to ban the export of glass, as well as waste paper, plastic and tyres, for recycling. The ban came into effect in January 2021. This followed the crisis in the waste industry when China refused to continue to accept Australia's contaminated recycling.
The ban necessitates a rapid scaling up of glass recycling capacity and developing new markets for recycled glass. Recently the Commonwealth and State Governments announced funding for several projects including $6 million to Cleanaway, part of which will be used to build a glass recycling facility capable of processing 140,000 tonnes of glass – double Victoria's current capacity. At present, more glass is sent to landfill than is recycled. It is also cheaper to import new glass than to recycle it for high value uses such as the bottles mostly used in the alcohol industry. Most recycled glass is used in the construction industry and increasingly as an ingredient in road building materials.
Cleanaway became the City of Port Phillip's kerbside recycling contractor after SKM recyclers collapsed in 2019. The emphasis has turned to getting better quality recycling which has a higher value.
The City of Port Phillip has been trialling various approaches to improving the quality of the glass waste stream through separate glass collections that suit the living arrangements of people in Port Phillip. In South Melbourne and Albert Park where there is little room to accommodate extra bins, a communal approach is being trialled with glass recycling bins located prominently in reserves3. The trial, which was to have ended in October, is continuing in order to monitor the changes in glass recycling practices during and after lockdown.
For some reason, broken glass seems to be a particular feature of South Melbourne beach. Some people have made a practice over many years of picking up glass on their daily walk to prevent injury to people and dogs. The reward is the occasional discovery of a piece with softened edges, frosted by the movement of the sea.
It was a collection of such pieces that produced Sarah Mott's work Ocean Contemplation at the From Nature exhibition at Gasworks in 2017.
Sources
1 opposite Priscilla Jones Cafe and the Gasworks gate – now  Mirvac's Laureate townhouses
2 Melbourne Glass Bottle Works Company 1872 – c 1915 Encyclopedia of Australian Science
3Glass recycling bins are located at Lyell Iffla Reserve, cnr Park & Nelson Rd, Sol Green Reserve & Little Finlay Reserve