test
Toyota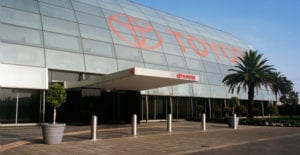 A Port view –  after Toyota announced that it will cease manufacturing cars in Australia in 2017.
Smoke from the fires around Melbourne was in the air.
The Australian car industry's 'birth was driven by an odd mix of war-driven fear and post-war exuberance', wrote Terry McCrann* and that found its expression right here in this place –  Fishermans Bend, Port Melbourne.
Connections with Toyota and the Port community have been especially strong in recent years.
Toyota's new corporate headquarters in Port Melbourne opened in 2004,  in the presence of Prime Minister John Howard and Premier Bracks – in a long tradition of Prime Ministers and Premiers wanting to be associated with the car industry. It was branded Toyota Green.
These were some of the environmental features of the building
a 90 metre glazed atrium covering the front of the building, double and triple glazed panels along with a further layer on all office windows will reduce the peak solar load without permanent obstructions to views.
reduced reliance on energy for air conditioning with a high level of air filtration and zoned air conditioning to allow maximum flexibility. Air to the atrium is reticulated via a network of concrete underground ducts utilising the ambient temperature from this duct to pre-condition the air with a mixture of outside air and recycled air.
interface carpet utilising recycled materials has been used in all office areas and high efficiency fluorescent lights have also been used in the building.
a 350,000 litre underground stormwater tank collects and harvests stormwater from the roof to use for the flushing water system servicing the toilets and for the landscape surrounding the building.
Toyota has also generous in sharing their expertise and experience with the building.
Investing in the community
Toyota has the most strategic, committed and far reaching corporate social responsibility program that I have ever come across. They have gone out of their way to get to know and understand the communities they work in, both here in Port Phillip and in Hobsons Bay. They have invested in thoughtful long term relationships through their Community Spirit program. Through their business mentoring program, they have supported local community groups to develop more strategic approaches to their work. Their quarterly art exhibitions have stimulated the careers of emerging artists and given others opportunities to show their work in a professional setting. And they invited community in to their headquarters with a generous spirit.
Holden and Toyota own about 41 hectares of land in Port Melbourne. While the body is still warm, speculation begins about this land.
Thank you Toyota for your investment in this place.
Terry McCrann in the Herald Sun 11 February 2014